Due to COVID out 2020 Sit & Chat event in Kentville will be postponed until May 2021. Watch for more informaiton.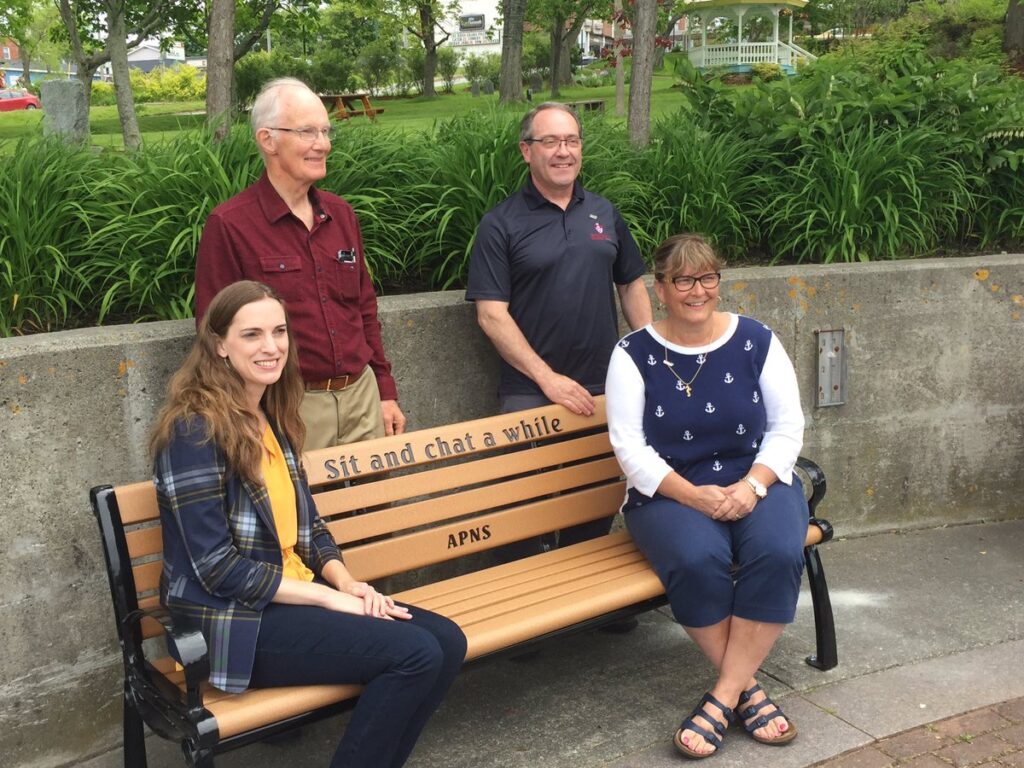 Beginning in 2017 the Association of Psychologists of Nova Scotia has been partnering with communities across the province in the hope of fostering human connection through park benches. Reviving the old saying "sit and chat a while" these benches have been donated to raise awareness of the value of human interaction as a way to enhance mental and physical health. Throughout Nova Scotia parks are the perfect setting to enjoy the outdoors whilst engaging with other people, to chat with neighbours and get to know other members of the community.
"When we socialize, especially in nature, we make changes in our brain and body helping to calm the central nervous system. Through this sense of connection, we increase positive feelings and reduce depression and anxiety. We also increase our capacity for attention, ability to problem solve and have more energy".

Jeannette Kennedy, APNS President
In Person Connection
Inspired by the buddy bench, a global trend that provides a safe place for bullied or lonely kids, these sit and chat benches are a push for individuals within the community to come together and have physical and present conversations with one another in this ever-growing digital age of communication.
"Research is clearly telling us we need to put down our electronics, get out into nature and connect with people for better psychological health", says Dr. Shelley Goodwin, APNS's past president. Through a number of studies an psychological research out of the U.S. show that turning off the TV or putting down a phone when someone walks into the room, then orienting toward that person, can send powerful signals of connection which can improve mental health. These benches are meant to be an extension of this concept.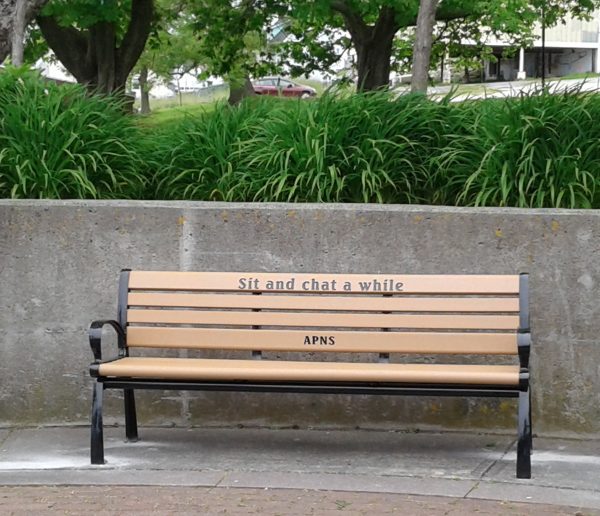 Past Projects
This initiative has soon become an annual event for APNS and already there are Sit and Chat benches in a number of towns across Nova Scotia. These communities include:
Our next Sit & Chat Event will be held in Kentville. Date T.B.A. postponed from May, 2020.
APNS hopes this idea will be adopted by other towns in Nova Scotia and encourages community leader to contact us for more information. In this busy world everyone deserves a little time out to have a nice chat. For more information contact apns@apns.ca.